Tall ship Hawaiian Chieftain sets sail for Oregon on Wednesday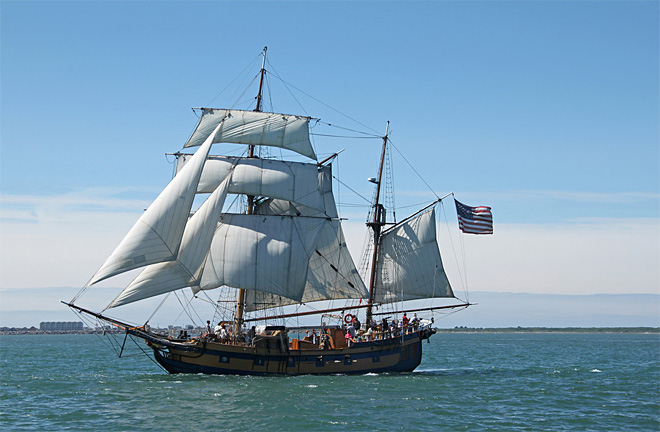 From a press release | Photo courtesy Ron Arel, Coastal Images
The tall ship Hawaiian Chieftain is scheduled to make its grand arrival in Coos Bay, Ore., Friday afternoon after a three-day trip from Crescent City, Calif. The topsail ketch is on its homeward bound voyage for Washington State, and it will make three scheduled stops along the Oregon Coast, starting with Coos Bay March 19-24. After firing a cannon salute to the community, the ship is scheduled to arrive 2 p.m. Friday along the Coos Bay waterfront at 200 S. Bayshore Drive.
After Crescent City, Hawaiian Chieftain will sail for Newport and Garibaldi, then return to its home port of Grays Harbor, Wash.
Hawaiian Chieftain will open for walk-on tours on these dates and times: March 20 and 21, 10 a.m. to 1 p.m.; March 23 and 24, 4 p.m. to 5 p.m. Crew in period costume will welcome visitors aboard. A $3 donation per person is appreciated.
At 2 p.m. Saturday and Sunday, March 20 and 21, Hawaiian Chieftain will take guests on three-hour Adventure Sails, which feature cannon fire, maritime storytelling, and a chance for guests to help sail and steer a real tall ship. Tickets are $55 adults, $45 students/seniors/active military, and $35 children 12 and under. To purchase tickets, call 800-200-5239, or visit www.historicalseaport.org.
Space is still available for one-hour and three-hour on-board K-12 education programs. Contact Roxie Underwood, programs manager, 800-200-5239, runderwood@historicalseaport.org